Protect Your Place From Spreading Germs and Viruses
Germs, bacteria, and viruses thrive in dirty environments, commercial disinfection services are used to clean surfaces and equipment in businesses, hospitals, medical offices, schools, manufacturing facilities, and daycares. Thorough disinfection begins with a deep detailed cleaning followed by advanced green cleaning and disinfectants that are the the best in industry. Disinfecting services are ideal for businesses that provide services to sensitive populations such as clinics and hospitals to create healthy spaces.

Services available
Disinfecting Services
Sanitizing Services
Deep Cleaning
Hospital Grade Disinfectants
High Touch Point Areas of Focus
Facility Specific Services
OSHA, CDC, and EPA Compliant
Why disinfection cleaning is important
Our state-of-the-art electrostatic applicators provide 360° coverage around curved and hard to reach surfaces with cutting-edge technology available in the industry combining electrostatic delivery with more conventional methods like fogging and misting.. Our electrostatic process atomizes the disinfectant solution and creates a magnetic charge that seeks out and fully encompasses all touch points and grounded room surfaces.

Germs, bacteria, viruses, and pathogens are found in dirty environments. Their experts clean them up using best practices set forth in leading governmental agencies, including the CDC, FDA, and EPA. We don't use standard cleaning products that are available on store shelves. Instead, we use advanced green cleaning solutions and disinfectants that are best in the industry.

Control emerging and infectious diseases with proper cleaning
Controlling and preventing of the spread of viruses like influenza, HIV, MRSA, COVID-19, and others when an appropriate disinfectant is used
Decreased risk of liability because someone got sick at your place of business
Increased trust from customers, who know that you care enough to invest in their well-being
Decreased risk of workplace illness creating service disruptions
How does disinfection services work?
We first remove all visible dust, debris, and dirt from flat surfaces and high touch areas like door handles, light switches, and horizontal flat surfaces. After the area is clean, disinfecting can begin. Depending on the specific area and services needed, we can use electrostatic spray, fog, or CLO2 treat with EPA approved disinfecting products. Because we use a plant-based botanical disinfector approved for use in hospitals and around food, the area will be safe to return to just 10-15 minutes after the service is completed.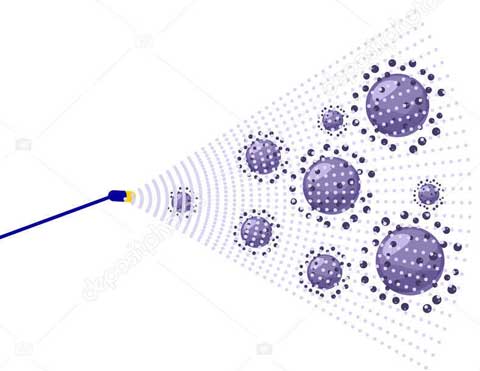 Scientifically proven to kill 99.999% of viruses, odor-causing bacteria, mold, allergens and odors
Acinetobacter baumannii
Canine Parvovirus
Carbapenan resistant Klebsiella
Clostridium dicile
Enterococcus faecalis Vancomycin
Escherichia coli 0157:H7
Feline Calicivirus
Hepatitis A virus
Hepatitis B virus
Herpes simplex virus type 1
Influenza virus H1N1
Klebsiella pneumoniae
MRSA & GRSA Human Immunodeficiency Virus Type 1
Mycobacterium bovis (TB)
Newcastle Disease Virus
Pneumoniae Norovirus
Poliovirus type 1 Resistant
Pseudomonas aeruginosa
Pseudorabies
Respiratory syncytial virus
Salmonella enterica
Staphylococcus aureus – Canine Distemper Virus
Staphylococcus epidermidis
Staphylococcus eureus
Trichophyton mentagrophytes
How safe is the disinfection?
Unlike many other chemical disinfectants on the market which can be toxic, cause damage or discoloration to surfaces, or harm the environment, our eco-friendly technology has been vigorously tested for safe use and durability.